Plate I.
Click image to enlarge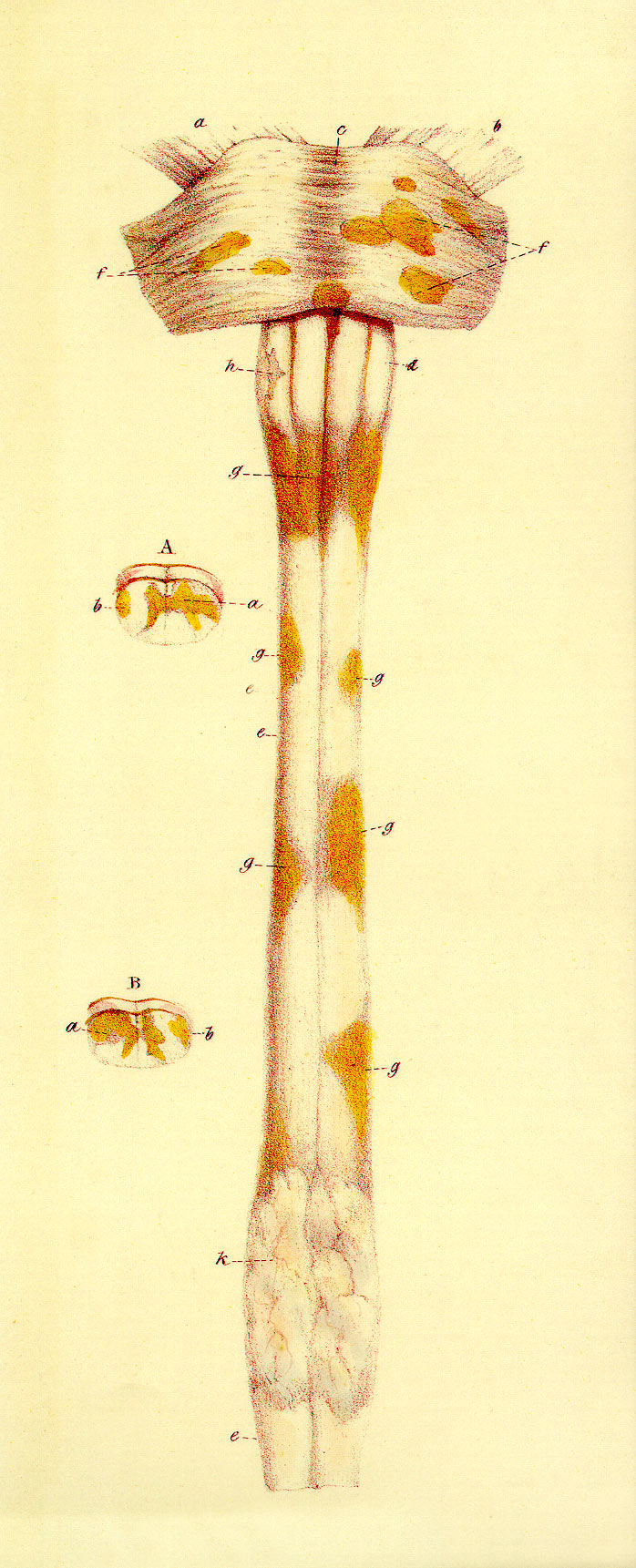 Lesion Specification:
Among the findings illustrated in the main figure, only the four paired angulated scars involving, mainly lengthwise, the spinal cord's flanks appear unmistakable. Besides, taking in the place between these scars' uppermost pair, a comparable patch extending along the spinal bulb's anterior median fissure and the spread of several rounded, yet otherwise similar tissue changes in the pons' front are evident.
Plate I.
Carswell's Classical 1838 Illustration of "a peculiar diseased state of the spinal cord and pons", chiefly set apart by "a remarkable lesion of the spinal cord".
Main figure.
Cervical spinal cord and pons, anterior aspect (a, right, and b, left cerebral peduncle; c, pons; d, spinal bulb; e, spinal cord; f, "points of the pons"; g, "patches on the spinal cord"; h, partial atrophy of right olive; k, softening of the spinal cord's cervical enlargement).
Figg. A, B. Transverse cervical spinal cord sections showing that "the discoloration commences on the surface of the white, and extends inwards to the grey substance" (a, lesion extension to central grey matter; b, involvement of white matter periphery only).
The Document's Significance:
This first depiction of a multiple sclerosis-specific lesion clearly demonstrated the distinctive pattern of its encroachment upon the spinal cord's flanks marked by two superimposed, not entirely co-extensive, obviously different kinds of tissue changes. Shown in addition are comparable damages of remarkably different configurations to the pons. Although the lesion's unique formal characteristics were generally not paid attention to, its picture has become the classical frontispiece of publications on the subject of "multiple sclerosis".