Plate X.
Click image to enlarge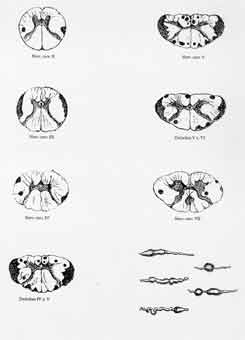 Character of the Acute Specific Spinal Lesion, according to Lauenstein, 1877:
Clearly demarcated softenings (shown in black) are seen to symmetrically and continuously involve the spinal cord's flanks, most extensively and heavily from the fourth to sixth cervical segments. Therefrom the damage tapers off, cranially, to the second and caudally to the seventh cervical segment, where an area adjacent to the spinal cord's posterior septum also proves affected. The plate's lower right hand corner shows axon swellings and distortions as they characterize the lesions' microscopical picture.
Lesion Nature:
The pathological changes appear specifically defined by their continuous encroachment, in the form of symmetrical, overall coarsely boat-shaped and, in detail, inwardly jagged lesion-extensions upon the cervical spinal cord's flanks.
The Observation's Significance:
The given account apparently constitutes the only report on a spontaneous softening exhibiting the pattern of Carswell's "remarkable spinal cord lesion", or spinal multiple sclerosis.